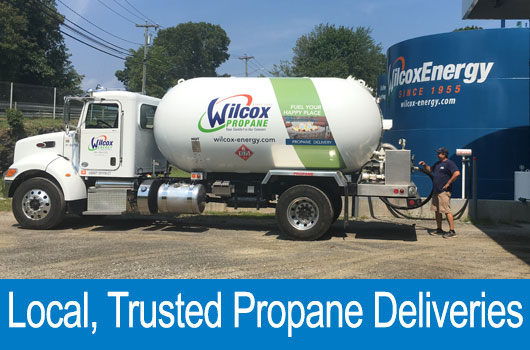 Chester Propane Delivery and Pricing
Trusted, Reliable Fuel Delivery.
Fuel Delivery Has Been Our Business in Chester, Connecticut For Over 60 Years.  Call today to get a propane delivery to your Chester CT home or business:
Wilcox Energy is proud to offer propane delivery services to residential and commercial properties right here in Chester, Connecticut. We are not a propane company, we are a customer service company. Our focus is all about our customers!
With our propane services, you can feel confident in:
Prompt Propane Delivery
Competitive and Fair Prices
Friendly Customer Service
Safe Installation of Propane Tanks
Knowledgeable Staff
Call today to find out why so many others trust Wilcox Energy for their fuel and heating needs, or click here to contact us.
The delivery drivers at Wilcox Energy are ready to fulfill all of your propane needs. We can help you when you need an emergency delivery, propane tank sets, or just a routine delivery. With our great services, come great prices. Wilcox Energy services both residential and commercial properties in Chester, CT 06412. Let our experts help you stay warm and cozy throughout the cold season.
Propane Delivery Near Me: Chester, CT
When you realize that your propane tank is running low that what you have left in your tank won't get you through the cold winter night, be sure to give us a call. Our services include the area of Chester. When you find yourself in these circumstances, you want to get trusted propane delivery from a Chester propane company you can rely on! Call Wilcox Energy, your local fuel supplier in Chester, CT!
Wilcox Energy has a propane storage depot to ensure that we always have plentiful propane supplies on hand. You will never have to worry about running out of fuel even during the coldest parts of the winter. We only provide delivery service 20 miles from our office so we can get to your home quickly. This means that you can get propane delivery to Chester, CT when YOU REQUIRE IT, not just when it's convenient for us.
Chester Residential Propane Companies
Not all propane companies deliver high-quality service. Wilcox Energy aims to deliver only the best services to all of our customers. We are centrally located in the Southern Shores area of Connecticut with service locations in Chester. Our customers can rely on fast Propane Deliveries and Home Heating Oil Deliveries. We offer fast, 24 Hour Emergency Service as well.
Not only do we deliver fuel but we also offer HVAC services. Our services cover repairs, installations, maintenance, and replacements for those who use propane fuel for heating. This includes homeowners who use propane for central heating, heating water, fireplaces, and even heating their pools.
Be sure to check out our air conditioning services as well. Even when your air conditioner malfunctions during the hottest days of summer, you can count on our full-service HVAC company services to get your air conditioning system fully functioning once again. Wilcox Energy provides complete air conditioning service and installation to residences throughout Chester, CT.
Propane Delivery Prices in Chester, CT
We are aware of the fact that we are not the only propane delivery company around. There are various to choose from. Since we are meticulous about who we add to our team of specialists, you can count on us to provide services that are professional, friendly, and knowledgeable. Our specialists have what it takes to address your propane, heating, or fuel-related concerns.
When you look around for the best propane prices in Chester CT, you can bet that Wilcox Energy's propane pricing is the most affordable. Propane prices rely on current fuel and financial market conditions. The prices do change from one day to the next. To find today's best prices, call (860) 399-6218.
See What Our Customers Have To Say…
Call Today For A Free Estimate: (860) 399-6218
Facts about Chester:
Chester, Connecticut, is a small town of a population around 3,700 located in Middlesex County. The population density per square mile is extremely low, at only 235 people, which is indicative of the spaced out homes with lots of land. English settlers landed in Chester in 1692, to land that was previously occupied by a river tribe of Native Americans known as The Wangunks. Chester, like many surrounding Connecticut towns, was known as a shipbuilding and farming town. Today, Chester features a number of local businesses, elegant boutiques, marinas and the world renowned Goodspeed Opera House.
Chester is an older community in Connecticut, with a median age of 48 years. The household income is well above the Connecticut average ($71,346) sitting at $91,973. Home values have increased dramatically since 2000 in Chester, and on average sell for around $321,974. Compare this to 2000, when the average was around $186,100, you can see how desired this town is to live in. The most common professions are construction, professional, scientific, and technical services, accommodation and food services, and educational services.
We deliver propane and heating oil to the following Connecticut towns: Chester, Clinton, Deep River, East Haddam, East Lyme, Essex, Guilford, Killingworth, Lyme, Madison, Niantic, Old Lyme, Old Saybrook, Westbrook and these zip codes: 06412, 06413, 06417, 06423, 06333, 06426, 06437, 06419, 06371, 06443, 06357, 06371, 06475, 06498