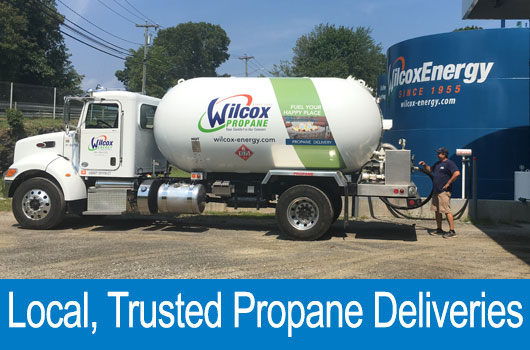 Clinton Propane Delivery and Pricing
Trusted, Reliable Fuel Delivery.
Fuel Delivery Has Been Our Business in Clinton, Connecticut For Over 60 Years.  Call today to get a propane delivery to your Clinton CT home or business:
Wilcox Energy is proud to offer propane delivery services to residential and commercial properties right here in Clinton, Connecticut. We are not a propane company, we are a customer service company. Our focus is all about our customers!
With our propane services, you can feel confident in:
Prompt Propane Delivery
Competitive and Fair Prices
Friendly Customer Service
Safe Installation of Propane Tanks
Knowledgeable Staff
Call today to find out why so many others trust Wilcox Energy for their fuel and heating needs, or click here to contact us.
When you require emergency propane delivery service, new propane tank installations, or just routine propane delivery, be sure to trust the delivery drivers at Wilcox Energy. We make it a point to offer our services at great prices. Wilcox Energy services both residential and commercial properties throughout the Clinton, CT 06413 area. Let our team of experts keep your home nice and cozy throughout the chilly winter season.
Propane Delivery Near Me: Clinton, CT
Wondering what to do when you realize that your propane tank has gotten so low that it won't last you through the night? No worries, Wilcox Energy has you covered. We are a trusted propane delivery company, located right here in Clinton, CT. We are your #1 local heating fuel supplier.
The reason that we have an endless supply of propane fuel is that Wilcox Energy has a storage depot on site. This means that when you are low on propane, we can provide you with the fuel that your home needs to stay warm. You will never give us a call and be told that we are out of supplies. Not only that but we also only service 20 miles outside of our office. Our service area is small which implies that we make it a point to deliver our fuel in a timely fashion. You will get your Clinton, CT propane delivery when YOU NEED IT, without long wait times.
Clinton Residential Propane Companies
Not all propane companies deliver the high caliber of service that we do. Wilcox Energy has service locations in Clinton, CT as well as throughout the Southern Shores of Connecticut. Even when your tank is low, you can count on us to provide prompt Propane Delivery Services and Home Heating Oil Deliveries. We offer deliveries 24 hours a day/7 days a week.
Broken heater or air conditioner? No problem! We also provide full heating and cooling service options. We offer equipment repair, maintenance, tune-ups, and replacement services for all of our customers who use propane as a source for heating. This includes hot water heating, fireplaces, and pool heaters.
If you use propane for heating, we can cover your air conditioning needs as well. When your cooling system breaks down, you can count on us, a full-service HVAC company, to get it up and running again. Wilcox Energy provides complete air conditioning service and installation to homes in Clinton, CT area.
Propane Delivery Prices in Clinton, CT
There are many propane delivery companies out there. This gives you many options when looking for a trusted propane supplier. At Wilcox Energy, we only hire the best. We only have professional, friendly and experienced specialists on our team. We can handle all your propane, heating, HVAC, and fuel-related questions.
When you shop for propane prices in Clinton CT, you can depend on Wilcox Energy propane prices to be the best. Propane prices are dependent on current fuel conditions, supply, and demand, among other influences. This means that propane prices will fluctuate. To get today's best prices, be sure to call (860) 399-6218.
See What Our Customers Have To Say…
Call Today For A Free Estimate: (860) 399-6218
Facts about Clinton:
Clinton, Connecticut, is a town located between Westbrook and Killingworth on the southern coast of Connecticut. It can be said that Clinton was founded in 1663. Life during the early settlement was reliant upon fishing, shipbuilding, and farming. Clinton 's fishing is historic, and known as the bluefish capital of the world. The Bluefish Festival is held annually in Clinton, and attracts thousands of fishermen from around the country. Abraham Pierson, one of the founders of the prestigious Yale University. If you are visiting Clinton, there is lots to do, especially along the beaches.
Clinton has seen a strong uptick in their economy over the past decade. In 2000, the median income for a household was $47,538, and today it's estimated at $66,119. The median house value is above the Connecticut average by $10,000, at $280,000. In 2000, it was only $154,700, so the real estate in Clinton has increased dramatically. The average age is around 47 years old so Clinton has an older population.
We deliver propane and heating oil to the following Connecticut towns: Chester, Clinton, Deep River, East Haddam, East Lyme, Essex, Guilford, Killingworth, Lyme, Madison, Niantic, Old Lyme, Old Saybrook, Westbrook and these zip codes: 06412, 06413, 06417, 06423, 06333, 06426, 06437, 06419, 06371, 06443, 06357, 06371, 06475, 06498