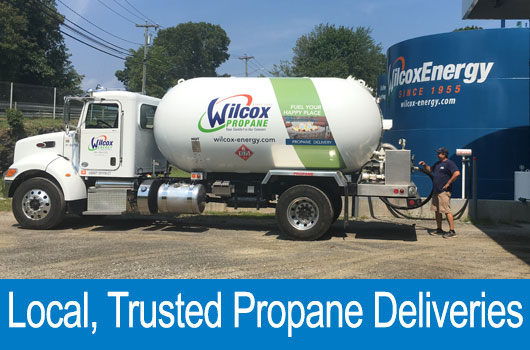 East Haddam Propane Delivery and Pricing
Trusted, Reliable Fuel Delivery.
Fuel Delivery Has Been Our Business in East Haddam, Connecticut Since 1955.  Call today to get a propane delivery to your East Haddam home or business:
Wilcox Energy is proud to offer propane delivery services to residential and commercial properties right here in East Haddam, Connecticut. We are not a propane company, we are a customer service company. Our focus is all about our customers!
With our propane services, you can feel confident in:
Prompt Propane Delivery
Competitive and Fair Prices
Friendly Customer Service
Safe Installation of Propane Tanks
Knowledgeable Staff
Call today to find out why so many others trust Wilcox Energy for their fuel and heating needs, or click here to contact us.
You can count on the fuel delivery drivers at Wilcox Energy. They have what it takes to provide you with fast emergency or reliable routine propane deliveries. Also, they have lots of experience with propane tank installation and will ensure that when they install yours, it will be installed both safely and properly. We offer residential or commercial services, all of which are affordably priced. High quality shouldn't have to break your bank account. We want to build long-lasting relationships with our East Haddam. CT 06423 clients and that is why we have such honest prices for our high-quality services. Let the experts at Wilcox Energy keep your home cozy and warm this winter.
Propane Delivery Near Me: East Haddam, CT
Have you ever had to face running out of propane during a cold winter's night? Anyone who has experienced this knows just how awful this is. Thankfully, when you are in East Haddam, you won't have to deal with a situation like this. Wilcox Energy delivers propane fuel to homes in East Haddam. Connecticut winters are cold and require heat for comfort and safety. This is why you need a reliable propane delivery company that you can depend on like Wilcox Energy. We are your most reliable and trusted local fuel supplier in East Haddam, CT!
It is not uncommon for propane companies to run out of fuel during the peak of the winter season. With Wilcox Energy, you will never be told that we are out of propane. We have a propane storage depot to ensure reliability for all of our customers when they need us most. Furthermore, we have a small service area. It is a 20-mile radius from our office. This makes us more reliable for our East Haddam customers. It also means that you can expect a delivery in a timely fashion. Your delivery will occur when YOU NEED IT, and not when we happen to be in your area.
East Haddam Residential Propane Companies
As with all service companies, not all offer high quality services although all claim to do so. We are located in the southern shores area of Connecticut. We also have service locations in East Haddam. We are known for providing reliable and trusted Propane Deliveries and Home Heating Oil Deliveries. We known that you do not want to be left in the cold and this is why we also offer 24 Hour Emergency Service.
We, not only offer fuel delivery, but we also have NATE certified HVAC technicians on board. They have the expertise and experience to service your heating and cooling equipment. Whether or not you use propane for heating, hot water, a fireplace, or even to heat your pool, our experts have you covered. We offer tune-ups, maintenance, installations, and repairs on all makes and models of HVAC equipment.
Even if you heat your home with propane, we can address your AC requirements as well. Not only do we offer a high standard of fuel delivery services but we also offer top notch air conditioning repair as well. When your AC malfunctions,  you can count on us to get it up and fully operating again. Wilcox Energy offers complete AC repair and installation to homes and commercial properties throughout East Haddam, CT.
Propane Delivery Prices in East Haddam, CT
There are many propane delivery companies available to choose from. However, we can assure you that our staff was carefully selected based on their abilities. We hire our team because they have demonstrated a capacity to provide you with a professional and positive experience. Our goal, as mentioned earlier, is to build long lasting relationships. They can address and thoroughly answer any HVAC or fuel related questions.
It is normal to search around for the best Propane Prices in East Haddam CT when choosing who will deliver your propane. Wilcox Energy is proud to offer high quality services at low prices. Be aware of the fact that propane prices do alter from one day to the next. This is because there are many variables that influence propane fuel prices. In order to find the most affordable prices, call (860) 399-6218.
See What Our Customers Have To Say…
Call Today For A Free Estimate: (860) 399-6218
Facts about East Haddam:
East Haddam is a town in Middlesex County which was incorporated in 1734. Before it was settled by European settlers, the area of East Haddam was settled by three different Indian tribes. East Haddam is known as the place of noises, because from 1638-1899, a number of earthquakes were recorded. East Haddam was purchased from the Native Americans for thirty coats! East Haddam has the Gillette Castle State Park, historic former home of the actor William Gillette.
East Haddam is a fairly younger town considering the surrounding towns that have average ages of 49-52. The median resident age in East Haddam is 44 years old. The household income average in East Haddam is above the Connecticut average, sitting around $87,947. The median home value for the area is around $295,000, which is a large increase from the year 2000 when homes on average were valued at $170,500. The cost of living in East Haddam is higher than the U.S. average by 30 points which signifies this is a more expensive to live in area.
We deliver propane and heating oil to the following Connecticut towns: Chester, Clinton, Deep River, East Haddam, East Lyme, Essex, Guilford, Killingworth, Lyme, Madison, Niantic, Old Lyme, Old Saybrook, Westbrook and these zip codes: 06412, 06413, 06417, 06423, 06333, 06426, 06437, 06419, 06371, 06443, 06357, 06371, 06475, 06498