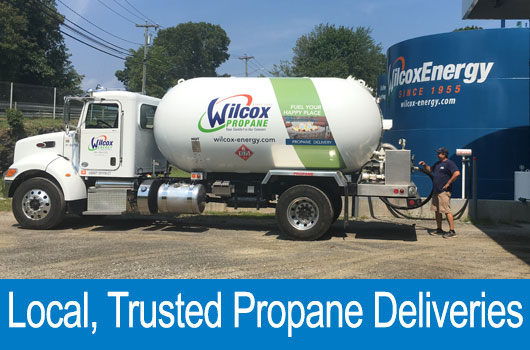 East Lyme Propane Delivery and Pricing
Trusted, Reliable Fuel Delivery.
Fuel Delivery Has Been Our Business in East Lyme, Connecticut For Over 60 Years.  Call today to get a propane delivery to your East Lyme home or business:
Wilcox Energy is proud to offer propane delivery services to residential and commercial properties right here in East Lyme, Connecticut. We are not a propane company, we are a customer service company. Our focus is all about our customers!
With our propane services, you can feel confident in:
Prompt Propane Delivery
Competitive and Fair Prices
Friendly Customer Service
Safe Installation of Propane Tanks
Knowledgeable Staff
Call today to find out why so many others trust Wilcox Energy for their fuel and heating needs, or click here to contact us.
Regardless of what type of propane service you need, the experts at Wilcox Energy are here to help. We offer a wide range of services which include propane deliveries. Whether you need an emergency or a regular fuel delivery, Wilcox is here to help. Need a new propane tank? We can install it properly and safely. Wilcox Energy services homes and businesses in East Lyme, CT 06333. Let our team of experts keep you warm and comfortable all throughout the cold season.
Propane Delivery Near Me: East Lyme, CT
Have you ever ran out of propane and your propane supplier couldn't get to you when you needed them? There is nothing quite like the feeling of knowing that you are running out of propane and that you will, more than likely, have to go through the night without having heat. Fortunately, if you are located in East Lyme, Wilcox can deliver your propane so you won't have to deal with a situation like this. Wilcox is your reliable fuel supplier in East Lyme, CT!
Not only do businesses or homeowners have to deal with going without when they are running low but sometimes they have to deal with propane suppliers that are running low on supplies themselves. Wilcox also has a solution for this. Since we have a storage depot, we have plenty of propane to fill your tank when you need it. Also, we have a small service area. This means that all of our East Lyme deliveries are conducted in a timely fashion and that you won't have to wait long for your fuel delivery.
East Lyme Residential Propane Companies
Well, we all know that one service company is very different than another. Some offer phenomenal services while others don't seem to prioritize their customer's needs. At Wilcox Energy, we always prioritize your needs. We aim to build positive experiences with our customers and we also aim to build long lasting relationships. We are centrally located on the southern shores of Connecticut. We also have service locations in East Lyme. Be sure to give us a call when you need Propane Deliveries and Home Heating Oil Deliveries. Also, when your tank is running low, we offer 24 Hour Emergency Service.
When your heater is malfunctioning, Wilcox is here to help. We offer a full line of HVAC services. Whether you need a repair service, maintenance, or a replacement, our NATE certified contractors can address your needs. This goes for any type of fuel that is used in your home. These services include homeowners who use propane for heating, heating hot water, fireplaces, and heating their pools.
Looking for an air conditioning contractor? Wilcox Energy has NATE certified AC specialists on our team. We can take care of your air conditioning needs. No one should have to deal with a broken air conditioner during the summer heat. Our HVAC contractors will be able to get your AC up and running again in no time. We offer a full line of HVAC services in East Lyme, CT.
Propane Delivery Prices in East Lyme, CT
There are many propane suppliers out there. What makes Wilcox Energy different than most of them is the fact that we are exceptionally picky about who we hire. They must show a high level of professionalism and knowledge. Additionally, they much have a friendly personality. This means that when you call us, you will always receive an expert who genuinely cares about your needs. If you have any questions about propane, HVAC, or fuel, in general, be sure to contact us.
Propane prices do vary from one day to the next. This is because the factors that influence the price of propane vary as well. These factors consist of crude oil (since propane is a byproduct of crude oil), supply and demand, weather, and more. These factors cause the price of propane to go up and down. In order to find the best propane prices in East Lyme, CT, call (860) 399-6218.
See What Our Customers Have To Say…
Call Today For A Free Estimate: (860) 399-6218
Facts about East Lyme:
East Lyme, located in New London County, Connecticut is located just north of the Long Island Sound. Located within East Lyme are two major villages called Niantic and Flanders. Some people mistakenly think that Niantic and Flanders are their own towns, but really are villages located in East Lyme. In East Lyme, the economy is reliant on sport fishing, marinas, restaurants, and tourism during the summer. The construction of a boardwalk in 2005 has also helped bolster East Lyme's economy.
In 2010, the population was around 19,159 in East Lyme. The median household income in this fairly large town is $86,401. This is a nearly $20,000 increase per household income since the year 2000. The average household value in East Lyme is $281,596, an increase from the year 2000 when the average home's value was $163,300. The median residents age is 44 years old in East Lyme. East Lyme borders Old Lyme and Lyme in New London County.
We deliver propane and heating oil to the following Connecticut towns: Chester, Clinton, Deep River, East Haddam, East Lyme, Essex, Guilford, Killingworth, Lyme, Madison, Niantic, Old Lyme, Old Saybrook, Westbrook and these zip codes: 06412, 06413, 06417, 06423, 06333, 06426, 06437, 06419, 06371, 06443, 06357, 06371, 06475, 06498