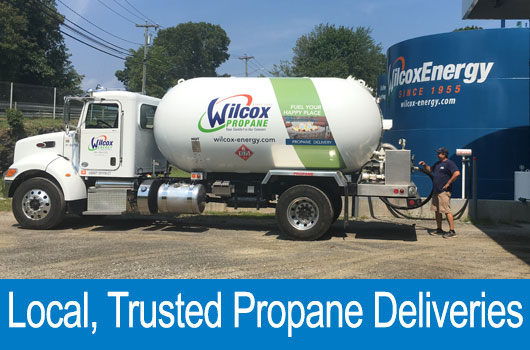 Essex Propane Delivery and Pricing
Trusted, Reliable Fuel Delivery.
Fuel Delivery Has Been Our Business in Essex, Connecticut For Over 60 Years.  Call today to get a propane delivery to your Essex home or business:
Wilcox Energy is proud to offer propane delivery services to residential and commercial properties right here in Essex, Connecticut. We are not a propane company, we are a customer service company. Our focus is all about our customers!
With our propane services, you can feel confident in:
Prompt Propane Delivery
Competitive and Fair Prices
Friendly Customer Service
Safe Installation of Propane Tanks
Knowledgeable Staff
Call today to find out why so many others trust Wilcox Energy for their fuel and heating needs or click here to contact us.
Wilcox Energy is ready and prepared to meet all of your heating needs. This includes propane deliveries and emergency fuel deliveries. We also have the experts on hand to install new propane tank sets when you need them. All of our services are affordably priced. We service both Essex, CT 06426 homes and businesses. Let our experts keep you warm all throughout the winter season.
Propane Delivery Near Me: Essex, CT
When you run out of propane on a cold winter's night, your home will feel highly uncomfortable. Situations like this can even compromise your safety if you are not careful. Fortunately, by being a resident of Essex, CT, you won't ever have to deal with a cold home on a cold winter's night. This is because Wilcox Energy offers fast emergency services for homeowners and businesses who need a tank refill because they are running low on propane. When you find yourself in a situation like this, you don't have to deal with a cold home. Instead, call Wilcox Energy, your local fuel supplier in Essex, CT!
Wilcox Energy always has adequate supplies to refill your tank. We have a propane storage depot to ensure this. When you call us, you will not be told that we are running low on supplies, which is common in the middle of the winter with other propane suppliers. Additionally, we have a small service area. In fact, we only deliver propane 20 miles from our central location. This ensures that we will always deliver your propane to Essex, CT quickly and when YOU NEED IT.
Essex Residential Propane Companies
You don't want just anyone delivering your propane. You want a propane supplier who is reliable and trustworthy. Wilcox Energy aims to build long lasting relationships with their customers by providing honest and dependable services. We are centrally located in the southern shores area of Connecticut, with service locations in Essex. This allows us to provide our customers with the quick Propane Deliveries, Home Heating Oil Deliveries, and 24 Hour Emergency Service that they have come to count on.
Even when your tank is full, sometimes your heating system can malfunction. Wilcox Energy is here to help. We have a full line of HVAC services, all performed by NATE certified contractors. They can perform repairs, installations, or maintenance services on your HVAC equipment. This goes for all fuel sources, including homes or business that heat their home with propane. We also can repair propane water heaters, pool heaters, and propane fireplaces.
When our propane customers need a repair, maintenance, or a new air conditioner, they can depend on us to address their air conditioning needs. If your air conditioner breaks down, you can count on our HVAC contractors to get your AC up and running when you need it. Wilcox Energy provides complete AC solutions for homes and business throughout the Essex, CT area.
Propane Delivery Prices in Essex, CT
When looking for a propane supplier, you don't want to randomly pick just anyone. Make sure that you select a company that truly takes an interest in the services that they offer. At Wilcox Energy, we are selective about who we have on our team. They must exhibit a strong sense of professionalism and have the skills required. Furthermore, they must be friendly and caring. Be sure to contact us so that we may answer any of your heating, air conditioning, or fuel-related questions.
Shopping for propane prices can take a long time. However, it is necessary if you want to find the best Propane Prices In Essex, CT. Propane prices fluctuate and therefore, they will not be the same from one day to the next. You can depend on Wilcox Energy to have the best propane prices. To find out today's prices, call (860) 399-6218.
See What Our Customers Have To Say…
Call Today For A Free Estimate: (860) 399-6218
Facts about Essex:
Essex, Connecticut is a town in Middlesex County with the motto "Best Small Town in America". Essex is a famous town, known in America as one of the only towns to ever be attacked by a foreign attacker. In the War of 1812, British Navy ships ambushed the town of Essex and did around $200,000 worth of damage to ships and buildings in Essex. Essex was one of the major shipbuilding and shipping towns in Connecticut in the early days of America's settlement. Essex was a focal point for the area because of the shipbuilding, and because of this many people moved into the area and lots of construction went underway. Shipbuilding began to fade out in the late 1800's and the Ivory trade took the area by storm. This also brought in an influx of Italian and Polish immigrants into the area for work.
Essex has a population of around 6,680 people. Essex is an affluent area, with a median household income of around $94,217. Compare this to 2000, when the median household income was $66,746, you can see the area has continued to increase its wealth. Essex's wealth and home value is similar to the surrounding towns in the "tri-town" area. The median home value is $397,579, which is far greater than the Connecticut average of $270,900. The median resident age for Essex is ten years older than the median Connecticut age, sitting at 49.
We deliver propane and heating oil to the following Connecticut towns: Chester, Clinton, Deep River, East Haddam, East Lyme, Essex, Guilford, Killingworth, Lyme, Madison, Niantic, Old Lyme, Old Saybrook, Westbrook and these zip codes: 06412, 06413, 06417, 06423, 06333, 06426, 06437, 06419, 06371, 06443, 06357, 06371, 06475, 06498