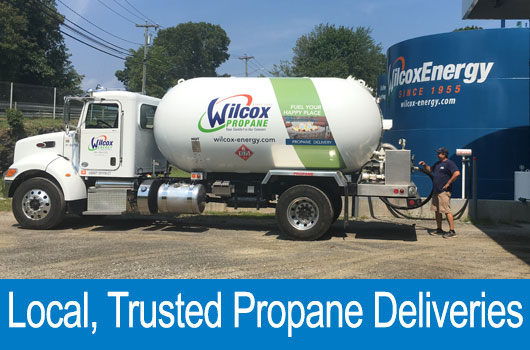 Lyme Propane Delivery and Pricing
Trusted, Reliable Fuel Delivery.
Fuel Delivery Has Been Our Business in Lyme, Connecticut For Over 60 Years.  Call today to get a propane delivery to your Lyme home or business:
Wilcox Energy is proud to offer propane delivery services to residential and commercial properties right here in Lyme, Connecticut. We are not a propane company, we are a customer service company. Our focus is all about our customers!
With our propane services, you can feel confident in:
Prompt Propane Delivery
Competitive and Fair Prices
Friendly Customer Service
Safe Installation of Propane Tanks
Knowledgeable Staff
Call today to find out why so many others trust Wilcox Energy for their fuel and heating needs or click here to contact us.
When it comes to propane and propane services, Wilcox Energy is your #1 resource. We offer a wide range of services in Lyme, CT 06731 including propane delivery, emergency fuel delivery, and propane tank installation. Whether you need delivery for a home or an office, our experts will be able to keep you warm throughout the cold weather and at a fraction of the cost. All of our services are affordably priced because we believe in the importance of using ethical business practices.
Propane Delivery Near Me: Lyme, CT
When your propane tank gets to the point where it is so low, there is the possibility that you may not have enough fuel to make it through the night. During the busiest time of the year, some propane companies may not be able to get to your home for a few days. Most homeowners would just have to deal with a cold home. This makes for a very uncomfortable situation and it can even be quite dangerous. Fortunately, Lyme homeowners and business owners have the option of calling Wilcox Energy for a fast and affordable emergency propane delivery service. No one should have to go without heat in the middle of the winter. This is why Wilcox Energy is considered one of the most reliable fuel suppliers in the area. We put your needs first.
Not only do homeowners occasionally run out of fuel, but sometimes propane suppliers do too. When the demand for propane is high, supplies of propane dwindle for some companies. Many propane suppliers may go days without propane fuel for their customers. Wilcox has prevented any of our customers from dealing with an issue like this because we have a propane storage depot. This means that we will always have ample supplies available even during the coldest part of the winter. Additionally, we only service 20 miles away from our main office, meaning that your delivery will be fast because we are not far away. You can always count on us to provide you with reliable propane deliveries in Lyme CT.
Lyme Residential Propane Companies
Wilcox Energy is conveniently located in the southern shores of CT. We also have service locations in Lyme. Homeowners and business owners who need Propane Deliveries and Home Heating Oil Deliveries can count on us to deliver your fuel in a timely fashion. We also offer 24 Hour Emergency Service which gives our customers the peace of mind that, even if they run out of fuel, they can depend on us to deliver more.
We are more than just a fuel delivery company. We also offer professional HVAC services. Our NATE certified contractors can repair, replace, or maintain any make and model. Additionally, those who need service for their pool heating system, their hot water heater, or their fireplace can call us.
Although propane is used for primarily for heating, our propane customers can use our HVAC services to get their air conditioner up and running when it has broken down. We can conduct preventative maintenance on it as well. If you need a new system, we can conduct an AC installation for you. Wilcox Energy provides complete air conditioning service and installation to homes in Lyme, CT.
Propane Delivery Prices in Lyme, CT
We know that we are not the only propane supplier in Lyme, CT. However, we know that we offer high quality services at affordable prices. This distinguishes us from the rest. We only hire experts who have exemplified a high level of standards in their field. They are professional and friendly. If you have any questions pertaining to HVAC or fuel, be sure to give us a call.
Propane prices in Lyme CT fluctuate as they do everywhere. There are many factors that contribute to the varying costs of propane. We offer the best prices in the Lyme CT. To find out what the propane prices are for today, call (860) 399-6218.
See What Our Customers Have To Say…
Call Today For A Free Estimate: (860) 399-6218
Facts about Lyme:
Lyme is a small town bordering Old Lyme and East Lyme in New London County Connecticut. Lyme is a bigger town than Old Lyme in the area but has less than half the population sitting around 2,400 people. Like many other towns along the southern coast of Connecticut, Lyme was originally part of the Saybrook Colony. Lyme is extremely rural and has a very low population density. The town is dedicated to preserving the natural agricultural heritage.
The median home value in Lyme is an astonishing $555,950. In the year 2000, the average home value was $322,240 which was at the time still extremely above average. The median household income in Lyme is estimated around $95,000 which is an increase from the year 2000 when it was $73,250. The median resident age in Lyme is 51 years old.
We deliver propane and heating oil to the following Connecticut towns: Chester, Clinton, Deep River, East Haddam, East Lyme, Essex, Guilford, Killingworth, Lyme, Madison, Niantic, Old Lyme, Old Saybrook, Westbrook and these zip codes: 06412, 06413, 06417, 06423, 06333, 06426, 06437, 06419, 06371, 06443, 06357, 06371, 06475, 06498