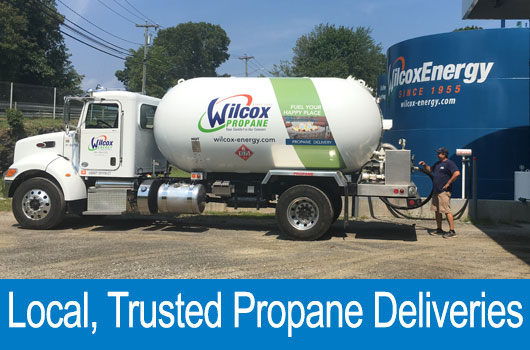 Madison Propane Delivery and Pricing
Trusted, Reliable Fuel Delivery.
Fuel Delivery Has Been Our Business in Madison, Connecticut For Over 60 Years.  Call today to get a propane delivery to your Madison home or business:
Wilcox Energy is proud to offer propane delivery services to residential and commercial properties right here in Madison, Connecticut. We are not a propane company, we are a customer service company. Our focus is all about our customers!
With our propane services, you can feel confident in:
Prompt Propane Delivery
Competitive and Fair Prices
Friendly Customer Service
Safe Installation of Propane Tanks
Knowledgeable Staff
Call today to find out why so many others trust Wilcox Energy for their fuel and heating needs or click here to contact us.
When you heat your home or business with propane, then you need a reliable propane supplier. Wilcox Energy offers trusted routine deliveries, emergency deliveries, and propane tank installations to homes and commercial properties in Madison, CT 06443. Our experts have what it takes to affordably keep you warm and cozy throughout the cold Connecticut winters.
Propane Delivery Near Me: Madison, CT
It is not surprising that in today's busy world, it is common to forget to check the levels of the propane in the tanks. Before you know it, you are out of propane in the middle of a winter's day. No one enjoys a situation like this. In fact, going without heat in the middle of the winter is a bad idea because of how dangerous it can be. If you ever face a situation like this, you will need a reliable propane supplier that you can trust. Call Wilcox Energy, your local fuel supplier in Madison, CT!
Regardless of what time of year it is, we always have the propane that you need. We have a large propane storage depot to ensure this. We will always be able to provide you with the propane delivery to Madison CT that you need. Wilcox Energy never deals with shortages which are quite common with other propane suppliers. Also, our service area is only 20 miles from our office which means that you can get your needed propane delivery in a timely fashion. With Wilcox Energy, there is no need to deal with running out of propane and ensuring a cold home in the middle of the winter.
Madison Residential Propane Companies
Wilcox Energy is conveniently located on the southern shores of Connecticut. We also have service locations in Madison. This means that homes and residences in Madison can count on fast Propane Deliveries and Home Heating Oil Deliveries. For those unexpected moments, we also offer 24 Hour Emergency Service.
Whenever your heater is acting up, you can call us. We have NATE certified contractors on board who offer repairs, maintenance, and installations of new HVAC equipment. Some homes that use propane for heating also use it to heat their hot water, their pool, and for their fireplace. We can also service these heating systems.
Is your home feeling a little warm on a hot summer's day? Let our heating and cooling specialists help you out. We offer a full line of air conditioning services such as AC repairs, maintenance, and installations. Let our professionals keep you cool during the summer.
Propane Delivery Prices in Madison, CT
Choosing a propane supplier among the list of propane delivery companies can be difficult. It is always important to choose one that is reliable, honest, and skilled in their industry. Wilcox Energy aims to create positive experiences for our customers by providing them with high quality services at honest, affordable prices. For any questions on HVAC or fuel, be sure to contact us. Our team of friendly professionals will gladly take the time to thoroughly answer your questions.
Although propane prices in Madison CT change from one day to the next due to the factors that influence propane costs, you can count on Wilcox Energy to provide you with the best prices around. To get today's best prices, call (860) 399-6218.
See What Our Customers Have To Say…
Call Today For A Free Estimate: (860) 399-6218
Facts about Madison:
Madison, Connecticut, settled in 1641, was incorporated in 1826. Madison is located on the southern coast of Connecticut, and has a number of beautiful beaches. Hammonasset Beach State Park is located in Madison, and is famous for being Connecticut's longest public beach. Hammonasset Beach has picnic areas, campsites, fishing, and is a huge tourist attraction. This town was actually mentioned in Bill Clinton's memoir for being so nice.
Madison has always been a wealthy town, and in the last decade plus has continued that trend. In 2000, the median household income was a little over $87,000. In 2015, the median household income is over $110,000. The median value for a house or condo in Madison is $434,713, compare this to 2000, when the average value was only $258,800. If you are looking to move into Madison, it's a fantastic town with an extremely low crime rate as well.
We deliver propane and heating oil to the following Connecticut towns: Chester, Clinton, Deep River, East Haddam, East Lyme, Essex, Guilford, Killingworth, Lyme, Madison, Niantic, Old Lyme, Old Saybrook, Westbrook and these zip codes: 06412, 06413, 06417, 06423, 06333, 06426, 06437, 06419, 06371, 06443, 06357, 06371, 06475, 06498