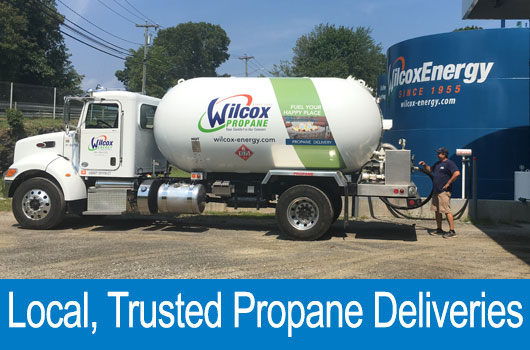 Niantic Propane Delivery and Pricing
Trusted, Reliable Fuel Delivery.
Fuel Delivery Has Been Our Business in Niantic, Connecticut Since 1955.  Call today to get a propane delivery to your Niantic home or business:
Wilcox Energy is proud to offer propane delivery services to residential and commercial properties right here in Niantic, Connecticut. We are not a propane company, we are a customer service company. Our focus is all about our customers!
With our propane services, you can feel confident in:
Prompt Propane Delivery
Competitive and Fair Prices
Friendly Customer Service
Safe Installation of Propane Tanks
Knowledgeable Staff
Call today to find out why so many others trust Wilcox Energy for their fuel and heating needs or click here to contact us.
Whether you need routine propane delivery or an emergency fuel delivery, be sure to call the experts at Wilcox Energy. Need a propane tank installation? We can install them for you! We service homes and commercial properties in the Niantic, CT 06357 area. Whatever your propane needs are, our professionals are equipped to keep you warm over the chilly CT winters.
Propane Delivery Near Me: Niantic, CT
Do you not have enough propane in your tank to get you through the night? No worries. Wilcox Energy offers propane deliveries in Niantic. We offer reliable and trusted propane service to both homes and commercial properties. Whenever you need fuel delivery, call Wilcox Energy, your local fuel delivery company in Niantic, CT!
Because it is common for most suppliers to have a shortage of supply in the middle of winter, we have a large propane storage depot to prevent this. Additionally, we have a small service area which spans approximately 20 miles from our office. This means that, when you call us, you will receive fast and reliable propane delivery to Niantic CT.
Niantic Residential Propane Companies
Our convenient location on the southern shores of CT allows us to have easy and quick access to our customers. For those residing in Niantic, we also have service locations there. We are known for providing our customers prompt Propane Deliveries and Home Heating Oil Deliveries. Also, our 24 Hour Emergency Service makes us available for those unexpected moments.
One unexpected moment is when your heater breaks down. For situations like this, we have NATE certified HVAC contractors available. They can perform repairs, tune-ups, and replacements on all of your heating equipment. Many homes that use propane as their source of fuel, also have propane water heaters, pool heaters, and fireplaces that will need servicing. Be sure to call Wilcox Energy for all of your heating needs.
CT winters are extremely cold but the summers can be quite warm also. Homes and businesses need air conditioners in order to maintain a certain level of comfort. Whenever you need air conditioning repair, maintenance, or a new A/C installation in Niantic, CT, The HVAC contractors at Wilcox Energy have you covered.
Propane Delivery Prices in Niantic, CT
Although we are aware that there are many propane delivery companies that offer propane deliveries to Niantic, CT, we know that, by working with us, you will be pleased with our services. Our staff consists of individuals who have demonstrated a high level of knowledge and skill in the field. They are all properly certified and will gladly answer any concerns that pertain to fuel or your heating or cooling system.
When looking for the best propane prices in Niantic CT, be sure to take quality of service into consideration. When working with Wilcox Energy, you get both. Wilcox Energy offers high-quality services and the best propane prices. Since the cost of propane varies from one day to the next, be sure to find out today's prices. To get today's best prices, call (860) 399-6218.
See What Our Customers Have To Say…
Call Today For A Free Estimate: (860) 399-6218
Facts about Niantic:
Niantic, Connecticut is a small village in the town of East Lyme. Niantic's Main Street runs parallel to the Long Island Sound and is the only community on the Connecticut coast to do so. Residents and vacationers of Niantic enjoy walking the mile-long boardwalk and shopping in the local businesses. Niantic was known for years as being famous for their scallops. The scallop population has suffered in recent years, however.
The median income and home values are very similar to Connecticut's average. The median household income sits just below the $71,346 Connecticut average at $70,689. The median resident age is around 52 years old which is similar to all of the Original Saybrook Colonies. The average home value is above the Connecticut average of $270,900. The median household income is $283,650 in Niantic.
We deliver propane and heating oil to the following Connecticut towns: Chester, Clinton, Deep River, East Haddam, East Lyme, Essex, Guilford, Killingworth, Lyme, Madison, Niantic, Old Lyme, Old Saybrook, Westbrook and these zip codes: 06412, 06413, 06417, 06423, 06333, 06426, 06437, 06419, 06371, 06443, 06357, 06371, 06475, 06498