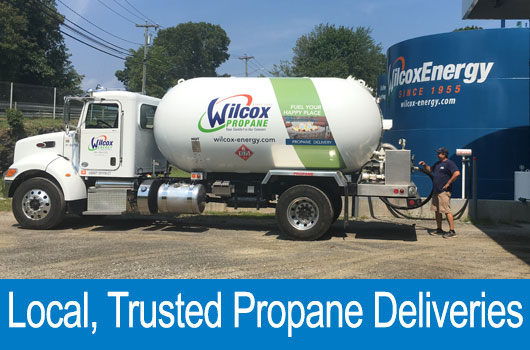 Old Lyme Propane Delivery and Pricing
Trusted, Reliable Fuel Delivery.
Fuel Delivery Has Been Our Business in Old Lyme, Connecticut For Over 60 Years.  Call today to get a propane delivery to your Old Lyme home or business:
Wilcox Energy is proud to offer propane delivery services to residential and commercial properties right here in Old Lyme, Connecticut. We are not a propane company, we are a customer service company. Our focus is all about our customers!
With our propane services, you can feel confident in:
Prompt Propane Delivery
Competitive and Fair Prices
Friendly Customer Service
Safe Installation of Propane Tanks
Knowledgeable Staff
Call today to find out why so many others trust Wilcox Energy for their fuel and heating needs or click here to contact us.
The experts at Wilcox Energy are available to satisfy all of your propane needs. Whether a home or a commercial property in Old Lyme, CT 06371, we have you covered. We offer routine propane deliveries and emergency propane deliveries. If you are in need of a propane tank installation, we can take care of that for you. We have what it takes to keep your home or office warm all throughout the cold season here in Connecticut. Even better, we offer all of our services at exceptionally affordable prices.
Propane Delivery Near Me: Old Lyme, CT
When you come home from work to a cold house, you may come to find that your tank has ran out of propane. What can you do? For a situation like this, you will need a reliable propane delivery company that can attend to your needs fast. You certainly don't want to go through a cold night in the middle of the winter. It is not an ideal circumstance and it can even be dangerous. Thankfully, you can count on Wilcox Energy to provide you with the propane that you need. Call Wilcox Energy, your local fuel supplier in Old Lyme, CT!
The worst type of situation is when your tank is running low and you can't find a propane supplier who isn't in the same predicament. It is common for propane shortages to occur in the middle of the cold winter. Fortunately, Wilcox Energy has prevented from dealing with an issue like this because we have a large propane storage depot. This means that we will always have an abundance of propane available for you when you need it. Our service area is small. It spans 20 miles from our office. Therefore, you will not only be able to get the propane that you need but, you will receive a propane delivery in Old Lyme, CT in a timely fashion.
Old Lyme Residential Propane Companies
Not all propane companies offer the same caliber of service that Wilcox Energy does. Your satisfaction with our service is truly important to us. We are centrally located in the southern shores of Connecticut which makes us close to residences and offices in Old Lyme. Also, we have service locations directly located in Old Lyme. When working with us, we can guarantee that you will receive a prompt Propane Delivery or Home Heating Oil Delivery. For times when life is busy and you have not had the time to stay on top of the fuel levels in your tank, we also offer 24 Hour Emergency Service.
Even if you come home to a cold house and your propane tank is full, it may be your heater that's to blame. We also offer a full line of HVAC services. Whether you need a repair, maintenance, or even a new HVAC system installed, the NATE certified HVAC contractors at Wilcox Energy can help you out. We also service other aspects of propane heating such as fireplaces, pool heaters, or hot water heating systems.
Connecticut winters are cold. No one can argue that. The summers in CT are also characterized by hot and sticky weather. Air conditioners require regular maintenance and repairs from time to time. Be sure to contact Wilcox Energy. We offer a full line of air conditioning services, including AC installations in Old Lyme, CT.
Propane Delivery Prices in Old Lyme, CT
There are many propane delivery companies available to choose from. However, not all of them prioritize your needs quite like Wilcox Energy does. Our hiring process only allows the most professional, friendly, and knowledgeable staff on board. When working with us, you will always receive an expert that truly cares about your comfort. We are always eager to thoroughly answer any questions that you might have.
Propane prices in Old Lyme CT vary from one day to the next. In fact, they do everywhere. This is due to the influencing factors that determine the price of propane. Wilcox Energy always will offer you the best fuel prices available along with the highest quality services. To get today's best prices, call (860) 399-6218.
See What Our Customers Have To Say…
Call Today For A Free Estimate: (860) 399-6218
Facts about Old Lyme:
Old Lyme is a historic town in Connecticut located in New London County. Old Lyme has over 7,600 residents, but that number swells in the summer from seasonal vacationers. It's across the river from Old Saybrook and is on the southern coast of Connecticut. Old Lyme is 27 miles in area and borders East Lyme and Lyme. Fun fact: Lymes disease was named after the town of Lyme because it was first discovered in 1975 in children who lived in Lyme and Old Lyme. Tourist attractions in Old Lyme include Goose Island, the Florence Griswold Museum, and the Connecticut Impressionist Art Trail.
Old Lyme has a particularly high median home value, which is indicative of how sought after the area is to live. The median home value is $417,135 which is significantly higher than the Connecticut average of $270,900. Home values in Old Lyme have increased by almost $200,000 since the year 2000. The median income for residents in Old Lyme is $88,799, which is also well above the Connecticut, and the country average. The average age of residents in Old Lyme is 49 years old which is ten years older than the Connecticut average.
We deliver propane and heating oil to the following Connecticut towns: Chester, Clinton, Deep River, East Haddam, East Lyme, Essex, Guilford, Killingworth, Lyme, Madison, Niantic, Old Lyme, Old Saybrook, Westbrook and these zip codes: 06412, 06413, 06417, 06423, 06333, 06426, 06437, 06419, 06371, 06443, 06357, 06371, 06475, 06498