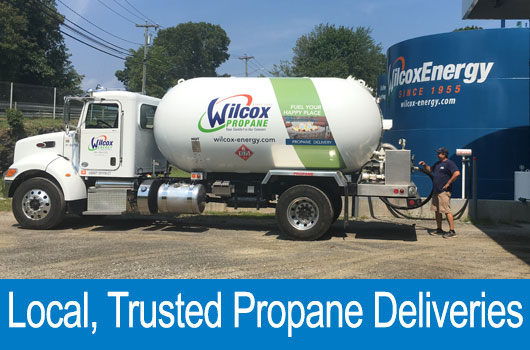 Old Saybrook Propane Delivery and Pricing
Trusted, Reliable Fuel Delivery.
Fuel Delivery Has Been Our Business in Old Saybrook, Connecticut For Over 60 Years.  Call today to get a propane delivery to your Old Saybrook home or business:
Wilcox Energy is proud to offer propane delivery services to residential and commercial properties right here in Old Saybrook, Connecticut. We are not a propane company, we are a customer service company. Our focus is all about our customers!
With our propane services, you can feel confident in:
Prompt Propane Delivery
Competitive and Fair Prices
Friendly Customer Service
Safe Installation of Propane Tanks
Knowledgeable Staff
Call today to find out why so many others trust Wilcox Energy for their fuel and heating needs or click here to contact us.
There is no doubt that CT winters are cold and require heating for comfort. For those who heat their homes with propane, you can count on Wilcox Energy to deliver your propane when you need it. We offer affordable services that include routine propane delivery as well as emergency deliveries. Whenever you need a new propane tank set, we can install them for you. Wilcox Energy services homes and businesses in Old Saybrook, CT 06475. Let the professionals at Wilcox Energy keep you warm throughout the cold and chilly CT winter season.
Propane Delivery Near Me: Old Saybrook, CT
No one should have to deal with a cold home in the middle of the winter because they ran out of propane. Life gets demanding and sometimes it is easy to forget to check the levels of fuel we have in our tank. Whether you are dealing with low propane in your tank or you need a routine propane delivery, Wilcox Energy is here to help. We offer reliable and trusted propane delivery service in Old Saybrook, CT.
Because we have a large propane storage depot, our customers never have to deal with a propane shortage. This is even true during the coldest part of the winter when demand for propane is high. Furthermore, our service area only spans 20 miles from our office which means that you will get the fuel that your home needs and within an impressive time frame.
Old Saybrook Residential Propane Companies
Wilcox Energy is located centrally to its entire service area. We are located on the southern shores of CT. We also have service locations in Old Saybrook. This gives us the opportunity to ensure that all of our customers receive their Propane Deliveries and Home Heating Oil Deliveries promptly, even those that are requiring 24 Hour Emergency Service.
Not only do we offer fast and affordable fuel deliveries but we also offer our clients a full line of HVAC services. This includes both heater and air conditioner repairs, maintenance, and installations. Those who use propane as their source of heat may also have a propane fireplace, water heater, or pool heater that may need servicing. Be sure to contact Wilcox Energy. We can get all of your heating and cooling systems working efficiently. Wilcox Energy provides complete heating and air conditioning service and installation to homes in Old Saybrook, CT.
Propane Delivery Prices in Old Saybrook, CT
When it comes to HVAC services or propane delivery in Old Saybrook CT, Wilcox Energy is here to help. We are aware that there are many propane providers to choose from. However, many of them will not prioritize your comfort needs like we will. We only hire the best professionals in the industry based on knowledge, skills, and years of experience. All of our staff is courteous and will gladly take the time that you deserve. If you have any heating, cooling, or fuel related questions, be sure to give us a call.
When shopping for the best propane prices in Old Saybrook CT, you can expect Wilcox Energy's propane prices to be the best. Not only that, but our great prices come with exceptional service. Keep in mind that propane prices do change from one day to the next. This is because the factors that influence propane costs vary as well. This includes current fuel costs, weather, supply and demand, and more. To get today's best prices, call (860) 399-6218.
See What Our Customers Have To Say…
Call Today For A Free Estimate: (860) 399-6218
Facts about Old Saybrook:
Old Saybrook, Connecticut, is a town in Middlesex County with a population of around 10,240. Old Saybrook is on the southern coast of Connecticut, and was settled in 1624 by Dutch settlers. Old Saybrook, formerly known as The Saybrook Colony was officially established in 1635. Old Saybrook is known for its famous lighthouse that sits off the coast. Old Saybrook is a small town with friendly neighbors, nice beaches, and a thriving business community.
Even though Old Saybrook is a larger town (more than ten thousand people), The median income and home values are impressive. The median income for a household is $88,565, which increased over $20,000 since the year 2000. The median home value is $334,949, which has increased from $193,600 in 2000. The crime rate in Old Saybrook is less than half of what the national average is, so Old Saybrook is a great town to live in. The median age is 11 years older than the connecticut average sitting at 50 years old.
We deliver propane and heating oil to the following Connecticut towns: Chester, Clinton, Deep River, East Haddam, East Lyme, Essex, Guilford, Killingworth, Lyme, Madison, Niantic, Old Lyme, Old Saybrook, Westbrook and these zip codes: 06412, 06413, 06417, 06423, 06333, 06426, 06437, 06419, 06371, 06443, 06357, 06371, 06475, 06498