Propane Company Shoreline CT: Get Peace Of Mind With Each Propane Delivery
Even if you lease your propane tanks, switching your propane supplier requires nothing more than a phone call.  The experts at Wilcox Energy will handle the rest.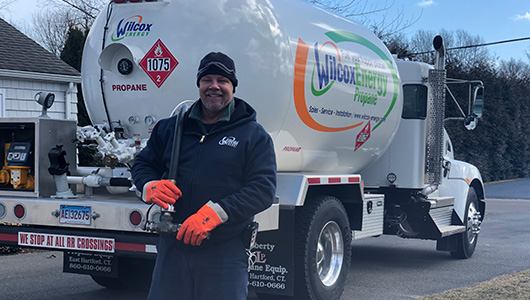 Many propane companies that service the CT Shoreline, including the towns of Westbrook, Essex, Deep River, Old Saybrook, Madison, Guilford, Clinton, and Killingworth, just don't seem to be so much in the customer service business.  When Wilcox Energy decided to start delivering propane gas in 2010, it was because they knew that Connecticut homeowners deserved better when it came to propane gas delivery and service in CT.
Don't Deal With Unreliable Propane Delivery Service In CT
We've heard all sorts of stories from new CT customers when they called about switching to us.  "When I called for a propane delivery, my propane gas company told me they were just in my CT neighborhood and I'd have to wait until next week for a propane gas delivery."  "I ran out of propane gas, despite being on automatic propane delivery &  they still charged me extra to come out and deliver to my area in Connecticut." "The local CT propane company number I have just rings and rings and rings when I call."
Wilcox Energy is in the customer service business.  We understand that you want peace of mind and comfort knowing that your CT propane gas company is there for you when you call.  If you don't feel like your propane company puts you and your needs first, call your trusted local CT propane gas supplier, Wilcox Energy.  Making the call is the first step towards a better propane experience in CT.  Whether you use propane gas to cook, to heat,  dry your clothes, or even a standby generator, you will be able to count on us to take your call. Also, we can respond to your needs in a speedy and professional manner. As a family-owned and operated company in Connecticut, we put our customer's needs first.
Get The Best Propane Prices In Connecticut
When it comes to propane pricing in CT, it is sometimes difficult to compare.  Many of the larger, non-local propane gas companies that deliver in the CT area charge surcharges with each propane delivery.  You may believe that you are paying one price, but in reality, you are paying much more for your propane gas.  With Wilcox Energy, we offer an upfront price per gallon of propane.  We do not charge surcharges.  If you want to learn more about our CT propane delivery services, please click through here.
Call Wilcox Energy Today For All Of Your Propane Delivery Requirements

It only takes a phone call.  Call us at (860) 399-6218 and experience the Wilcox difference.  AND if you use Wilcox Energy for both your oil and your propane, you will receive a dual fuel discount on your propane.  Don't settle for less, call today. To see our propane delivery area throughout the Connecticut shoreline, click here.