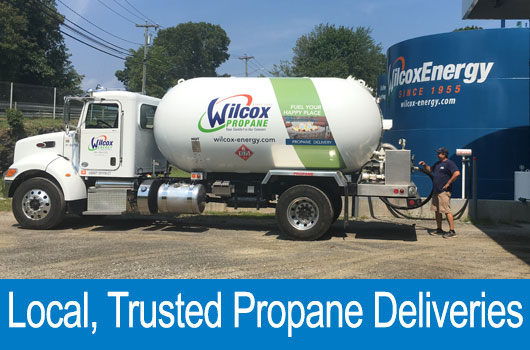 Westbrook Propane Delivery and Pricing
Trusted, Reliable Fuel Delivery.
Fuel Delivery Has Been Our Business in Westbrook, Connecticut Since 1955.  Call today to get a propane delivery to your Westbrook home or business:
Wilcox Energy is proud to offer propane delivery services to residential and commercial properties right here in Westbrook, Connecticut. We are not a propane company, we are a customer service company. Our focus is all about our customers!
With our propane services, you can feel confident in:
Prompt Propane Delivery
Competitive and Fair Prices
Friendly Customer Service
Safe Installation of Propane Tanks
Knowledgeable Staff
Call today to find out why so many others trust Wilcox Energy for their fuel and heating needs or click here to contact us.
Wilcox Energy fuel delivery drivers are prepared to meet all of your propane needs, including emergency deliveries, new propane tank sets and routine fuel delivery, all at great prices. Wilcox Energy services homes and businesses in Westbrook, CT 06498. Let us help keep you warm and comfortable all season long.
Propane Delivery Near Me: Westbrook, CT
There is nothing worse than realizing that your propane tank is running so low that you don't have enough gas to make it through a cold winter night. Wilcox Energy services homes and businesses right here in Westbrook. In these situations, you want to get reliable propane delivery from a Westbrook propane company you can trust! Call Wilcox Energy, your local fuel supplier in Westbrook, CT!
Wilcox Energy has a propane storage depot to ensure that we always have adequate supplies of propane on hand. You will never have to worry about shortages of fuel during the coldest parts of the winter. We service only within 20 miles of our office. This means that you get propane delivery to Westbrook CT when YOU NEED IT, not just when it's convenient for us.
Westbrook Residential Propane Companies
Not all propane companies are created equal. Wilcox Energy is centrally located in the Southern Shores area of CT and has service locations in Westbrook. Our customers can rely on timely Propane Deliveries and Home Heating Oil Deliveries as well as fast, 24 Hour Emergency Service.
Have peace of mind knowing that we also provide full HVAC service options. We offer equipment repair, maintenance, tune-up and replacement services for all of our customers who use propane for heating, hot water, fireplaces and pool heaters.
Our propane customers can also rely on us to take care of their air conditioning needs as well. Even during the hottest of days, if your AC breaks down, trust that you have a full-service HVAC company ready to get you cool again. Wilcox Energy provides complete air conditioning service and installation to homes in Westbrook, CT.
Propane Delivery Prices in Westbrook, CT
We know that there are many options available when selecting your propane supplier. At Wilcox Energy, we insist on hiring the best, most professional, friendly and knowledgeable staff. Our team can handle all your propane, heating and fuel-related questions.
When you shop for propane prices in Westbrook CT, you can depend on Wilcox Energy's propane pricing to be the best. Propane prices are dependent on current fuel and financial market conditions. This means that propane prices will vary from day to day. To get today's best prices, call (860) 399-6218.
See What Our Customers Have To Say…
Call Today For A Free Estimate: (860) 399-6218
Facts about Westbrook:
Westbrook, Connecticut, bordered by the historic towns of Clinton, Essex, and Deep River, is along the southern shore line of the state. With a population of almost 7,000, Westbrook is still a very open and suburban town. Since it's location is right on the coast, Westbrook has a number of aquatic attractions like the Mystic Seaport, and the Cross Sound Ferry. It may be of surprise to you, but David Bushnell, the creator of the first ever submarine type submersible boat. This ship was used in the Revolutionary War and was used to bomb a British Warship in the New York Harbor. Westbrook has an astonishing 16 private beach associations.
In the last fifteen years, Westbrook has seen a dramatic increase in the local economy and incomes. Take for example, the median household income in 2000 was $57,531. The 2015 estimates have them at $81,209. Real estate has also skyrocketed since 2000, with the average value being around $186,000 for a home, it's now almost double that at $322,493. Westbrook is an older town in Connecticut, and its median age for residents is 46; seven years higher than the 39 median average age in Connecticut.
We deliver propane and heating oil to the following Connecticut towns: Chester, Clinton, Deep River, East Haddam, East Lyme, Essex, Guilford, Killingworth, Lyme, Madison, Niantic, Old Lyme, Old Saybrook, Westbrook and these zip codes: 06412, 06413, 06417, 06423, 06333, 06426, 06437, 06419, 06371, 06443, 06357, 06371, 06475, 06498